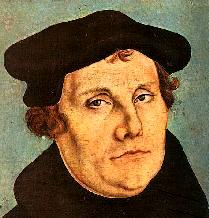 "I frankly confess that, for myself, even if it could be, I should not want
'free-will'
to be given me, nor anything to be left in my own hands to enable me to endeavour after salvation; not merely because in face of so many dangers, and adversities and assaults of devils, I could not stand my ground …; but because even were there no dangers … I should still be forced to labour with
no guarantee
of success … But now that God has taken my salvation out of the control of my own will, and put it under the
control of His
, and promised to
save me
, not according to
my working or running (Rom. 9:16)
, but according to His own
grace
and
mercy
, I have the comfortable certainty that He is
faithful
and will
not lie
to me, and that He is also
great
and
powerful
, so that no devils or opposition can break Him or pluck me from Him.
Furthermore, I have the
certainty
that
I please God
, not by reason of the merit of my works, but by reason of His merciful favour promised to me
through Jesus
; so that, if I work too little, or badly, He does not impute it to me, but with fatherly compassion pardons me and makes me better. This is the glorying of all the saints in their God"
- Martin Luther, The Bondage of the Will (Grand Rapids: Revell, 1957), 313-314.
HT